Friday evening bookings are now possible providing we have at least one month's prior notification.
With a little imagination the Church Hall can be transformed for your perfect function. Pictured right is a recent RNLI Dinner Party (circular tables and candelabras were hired to give a touch of class).
Wedding Receptions - The Church Hall makes a wonderful and affordable place to hold your wedding reception. Whether or not you hold your wedding at Christ Church the venue is available for all. We offer a package including exclusive use of the Hall and Coffee Lounge. The Hall can be made to look amazing and beautiful, all it needs is some artistic licence!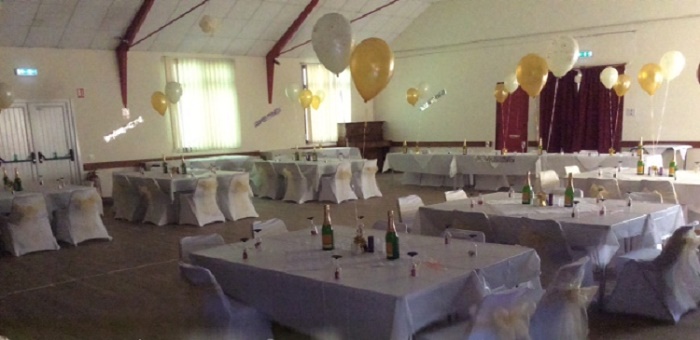 Children's Parties and Baptism Teas
Why not book our Hall on a Saturday or Sunday afternoon for your child's party? The main Hall gives ample space for games and bouncy castles whilst the Coffee Lounge can be set out for tea. Or perhaps we can be the venue for guests following your child's service of baptism that usually take place at 11.15am on Sundays. The charge is just £35. Please contact Sarah, in the Hall Office, if you are interested in the hall (but please see the Vicar first about the baptism - tel: 01642 -722665).
Visit our photo section to see more pictures of our Hall facilities
'200' Club
The operating costs of the Parochial Hall are generally funded by receipts of Hall booking fees from regular and casual users and it is intended that these fees are both reasonable and competitive. In order to keep them so and to allow for improvements to the fabric and to purchase and replace equipment for the Hall, a '200' Club operates. Please see the '200 Club' for details.
Event Hire Charges as of January 2016
Hall - £16.50 per hour
Hall and Coffee Lounge - £23.50 per hour
Evening Functions - £105.00
Alcohol Licence - £35.00
Baptism Teas and Children's Parties - £35.00 (two hour duration - Hall and Coffee Lounge included)
Wedding Functions - £170.00 (not including alcohol licence) - exlusive use of the Hall & Coffee Lounge including set and tidy-up times.
After-function clean - £35.00 (our lovely cleaners will come in the following morning to clean for you - for further details please speak to Sarah in the Hall Office)
N.B. There may discounts available for charity functions - please enquire in the Hall Office.