Stepping on towards our Silver Eco-Church Award.
Some of the steps we have taken as we become more environmentally aware.
Followed by some background information on the national Eco Church movement.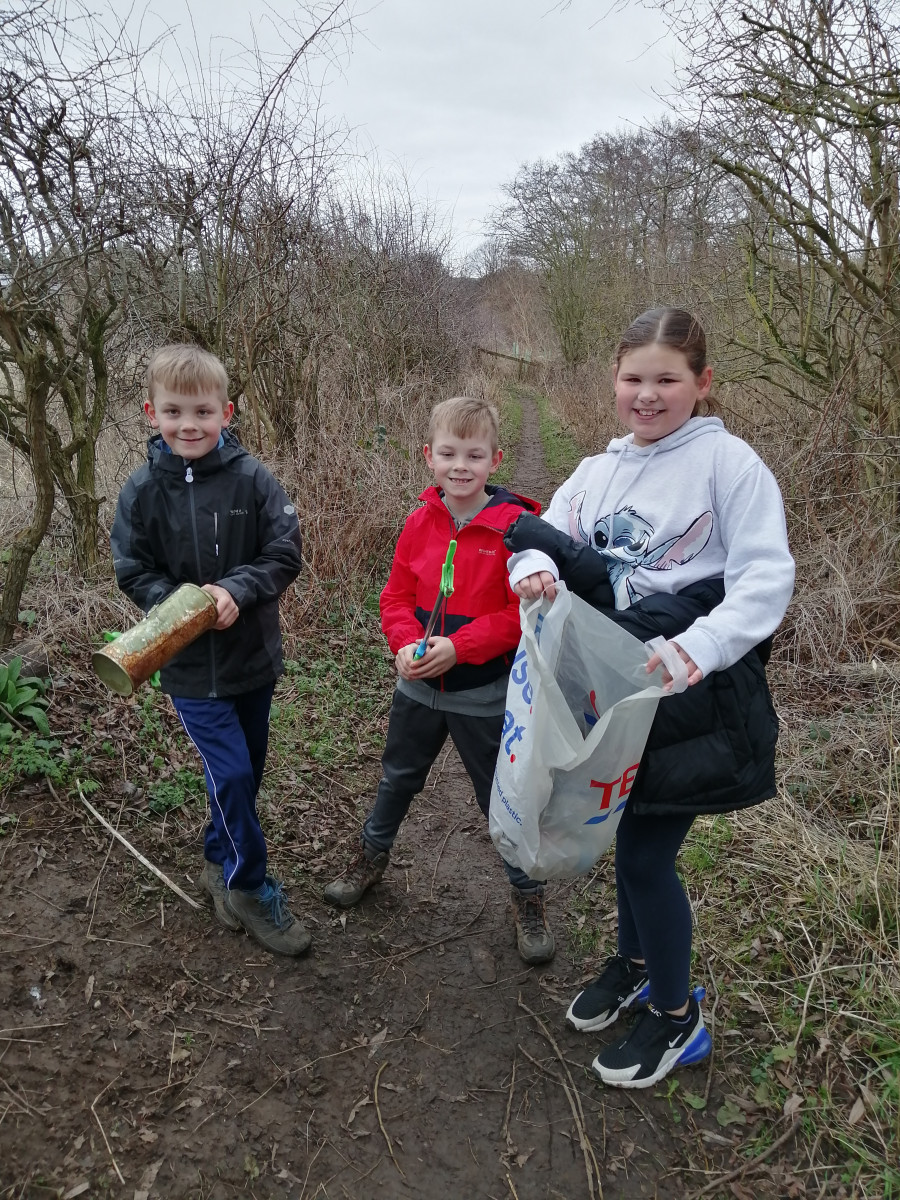 In February some of our youngsters collected 3 bags of litter along the river footpath to Stokesley, encouraged by family and others along the way.
During 2023 we hope to encourage everybody by sharing an ECO tip each month.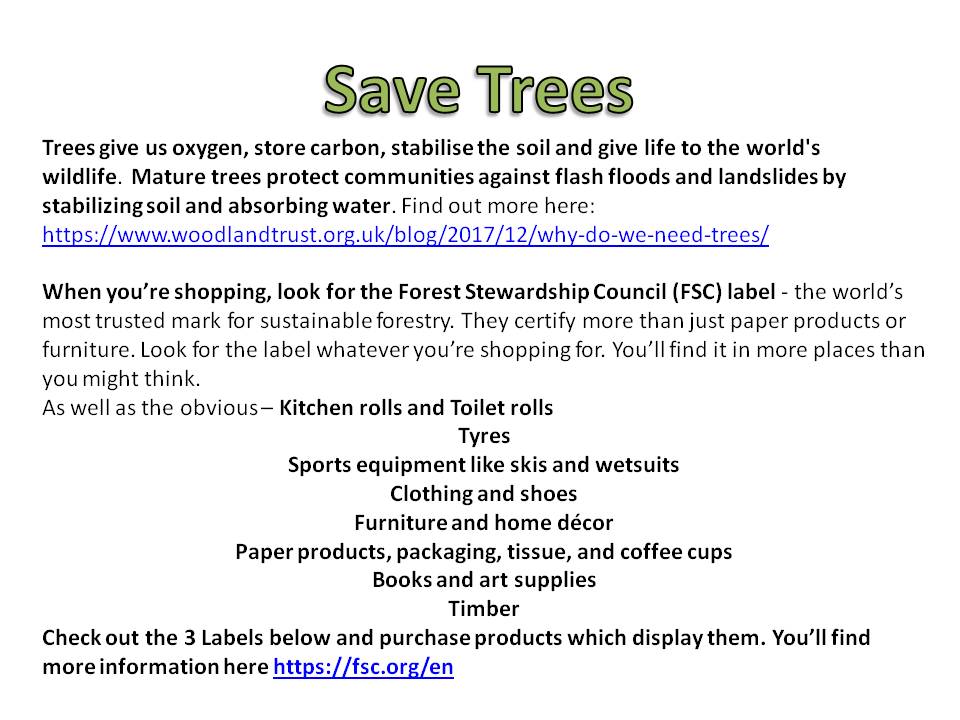 Our February tip is to SAVE TREES. More details can be found in our magazine SPIRE.
Encouraged by Archbishop Stepehen, our church bells rang out at 5 o'clock on November 5th along with many others around the Deanery and indeed throughout the world as we sought to remind people of the critical COP 27 meeting taking place in Egypt.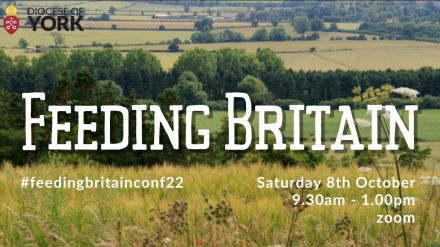 In October we participated in the zoom conference 'Feeding Britain' organised by the York Diocese 'Rural Life and Faith' group featuring key note speaker Emeritus Professor Tim Lang.
July 2022 we held our annual Eco Church service in the beautiful setting of All Saints Churchyard. As last year, rain threatened but God blessed us with dry weather and just enough cloud cover for us not to be too hot! We were delighted that friends from both St. Margaret's and the Methodist Church joined Christ Church in worship. And we even had some people join us who were just enjoying the churchyard. After enjoying fellowship and refreshments (with compulsory cake!) we considered 'Just One Thing' that we could individually do to care for God's creation better.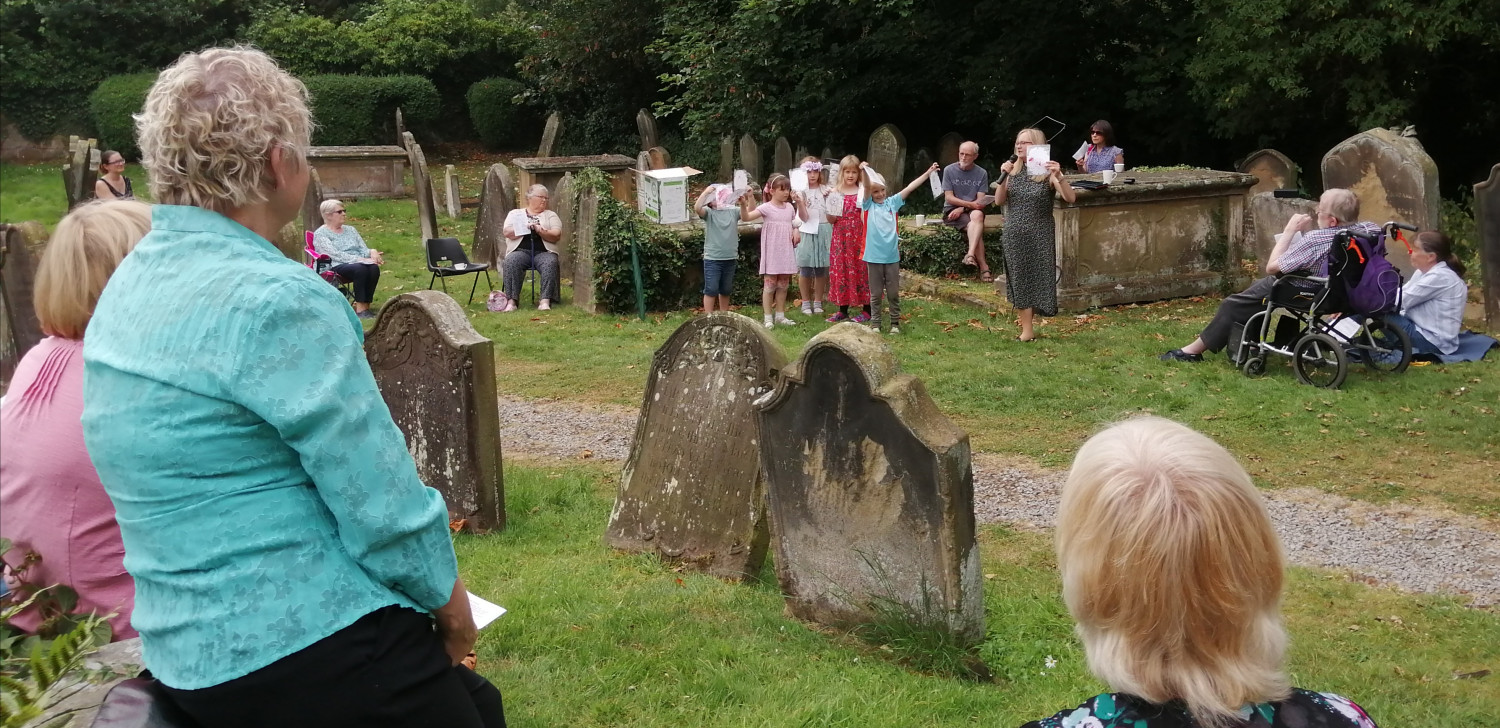 The intercessions were led powerfully by four of our young children and Little Fishes provided pictures of animals to show us what they wanted us grownups to look after. We prayed a prayer of commitment to doing our part to look after God's creation. Just one thing What one thing will you do to make a difference? · Buy locally produced food to reduce food miles · · · Leave a wild border in your garden to encourage biodiversity Change to LED lights Something else…? Helen, David and Geoff, members of Christ Church Eco Group told us about changes that they had made to give us some ideas of what we could do. We were encouraged to consider driving more carefully to save fuel; to use peat free compost to conserve peat bogs, a highly effective carbon sink; and to leave a part of our lawn uncut to provide a great habitat for wildlife. Everyone went home with some more suggestions of Just One Thing that we can do. And a Cheeky Panda bamboo toilet roll to remind us of what we had promised!
Tree Planting: At the beginning of July three flowering cherry trees have been planted on the grass in front of the Church Hall as part of our celebration of the Queen's Diamond Jubilee. Great Ayton Cubs kindly dug the three holes, supervised by Ben Lambert. Robin Harmar had sourced the three trees. The Trees were planted by Rosie Lov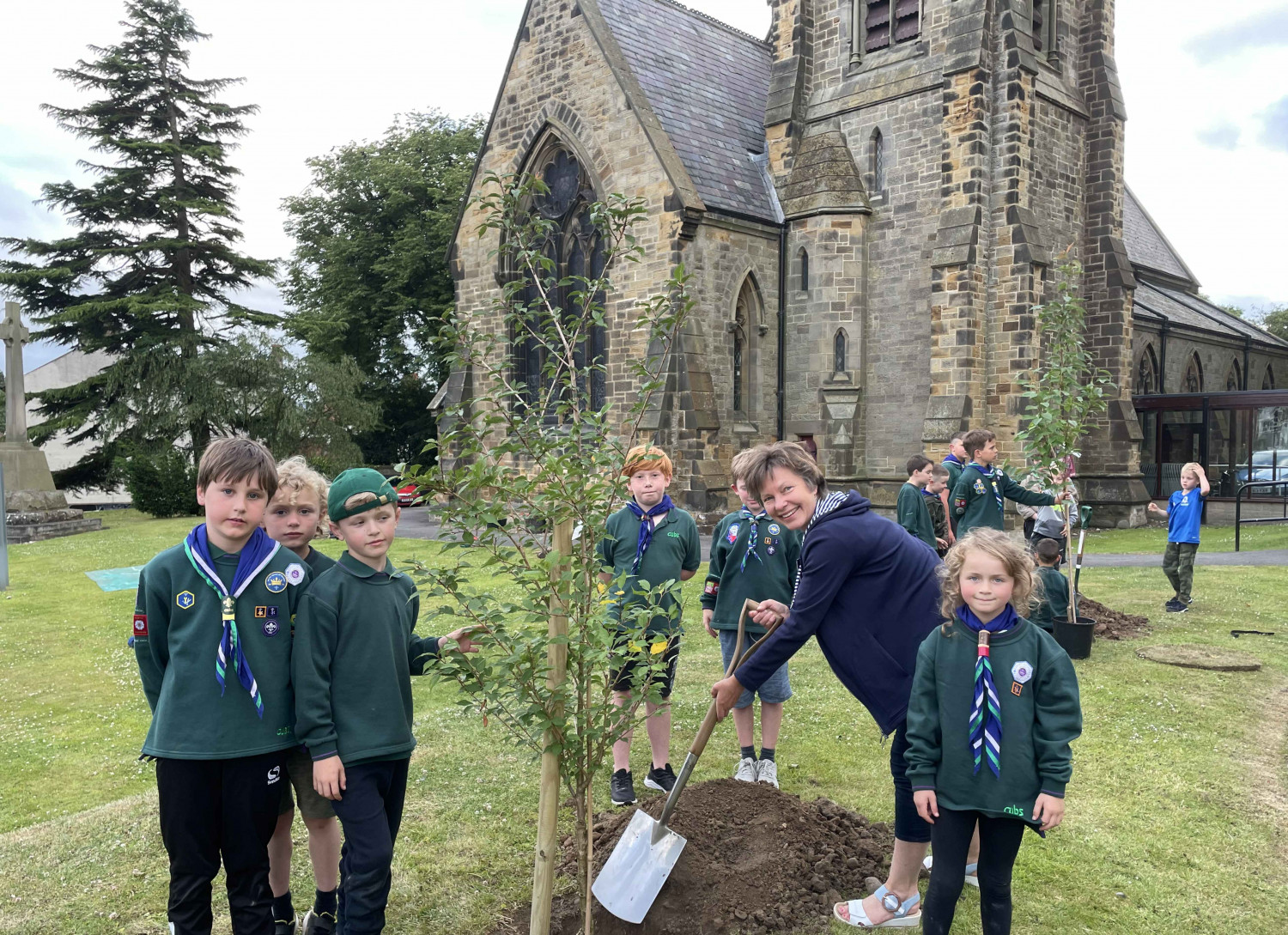 ell, (left) who runs Little Fishes Toddler Group in Church on Tuesday mornings.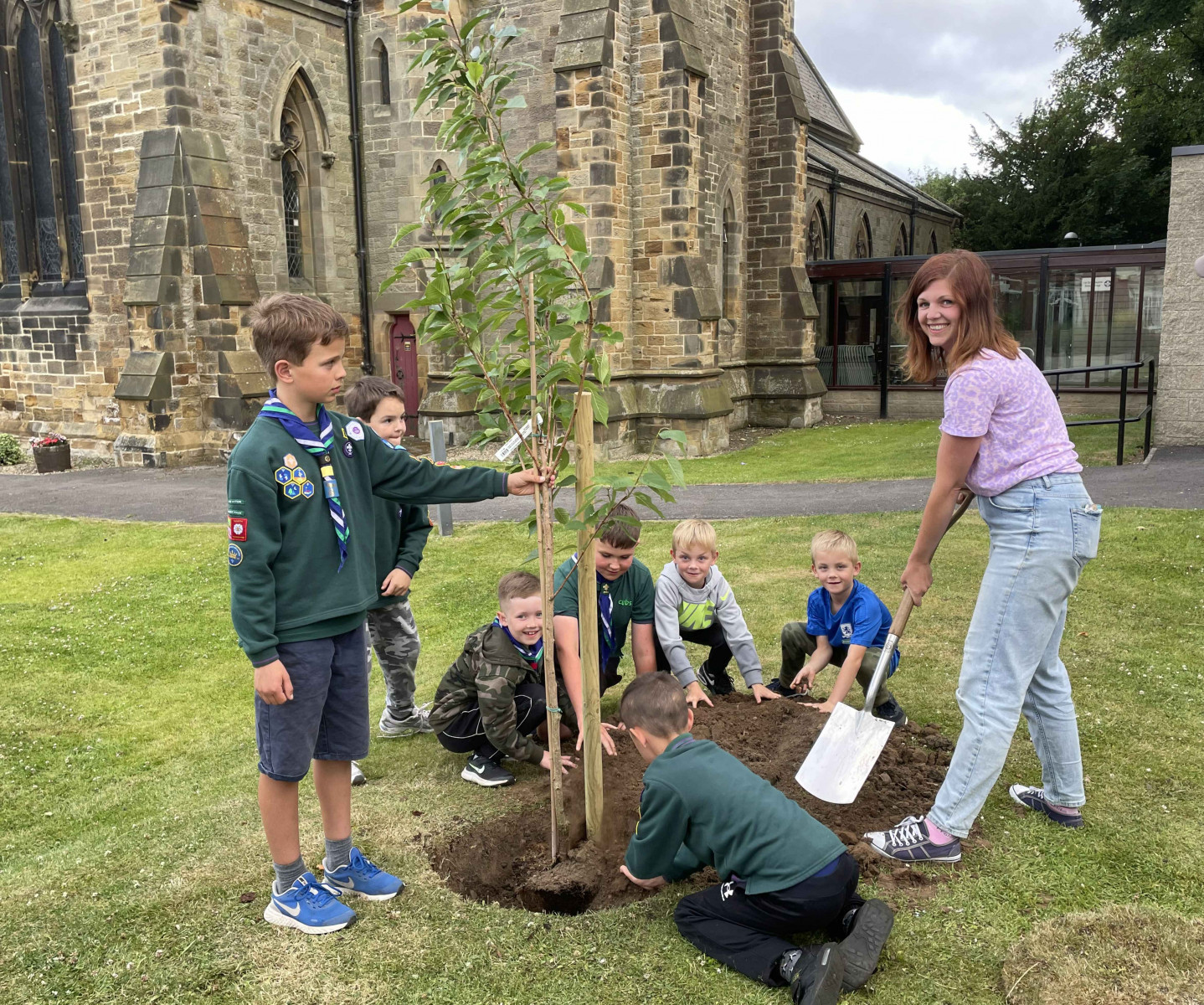 One of our Churchwardens, Helen Land (right) planted the second tree.
David Fox (below) planted the third tree. David was our Safeguarding Officer until recently and is also a Foundation Governor of Marwood C of E Infant School.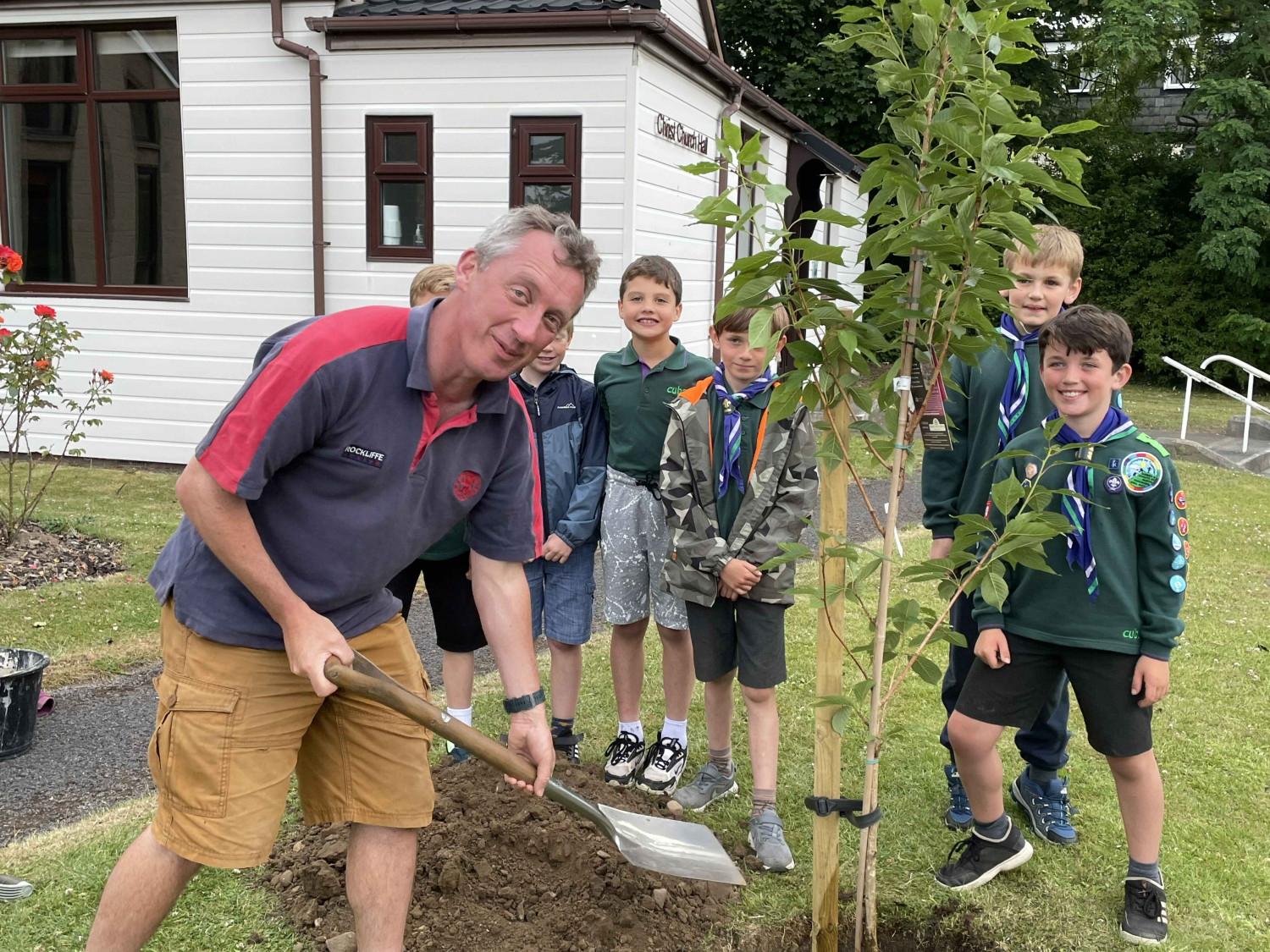 Many thanks to all who took part, and to those who have helped water the trees in the heat wave that followed!
June 20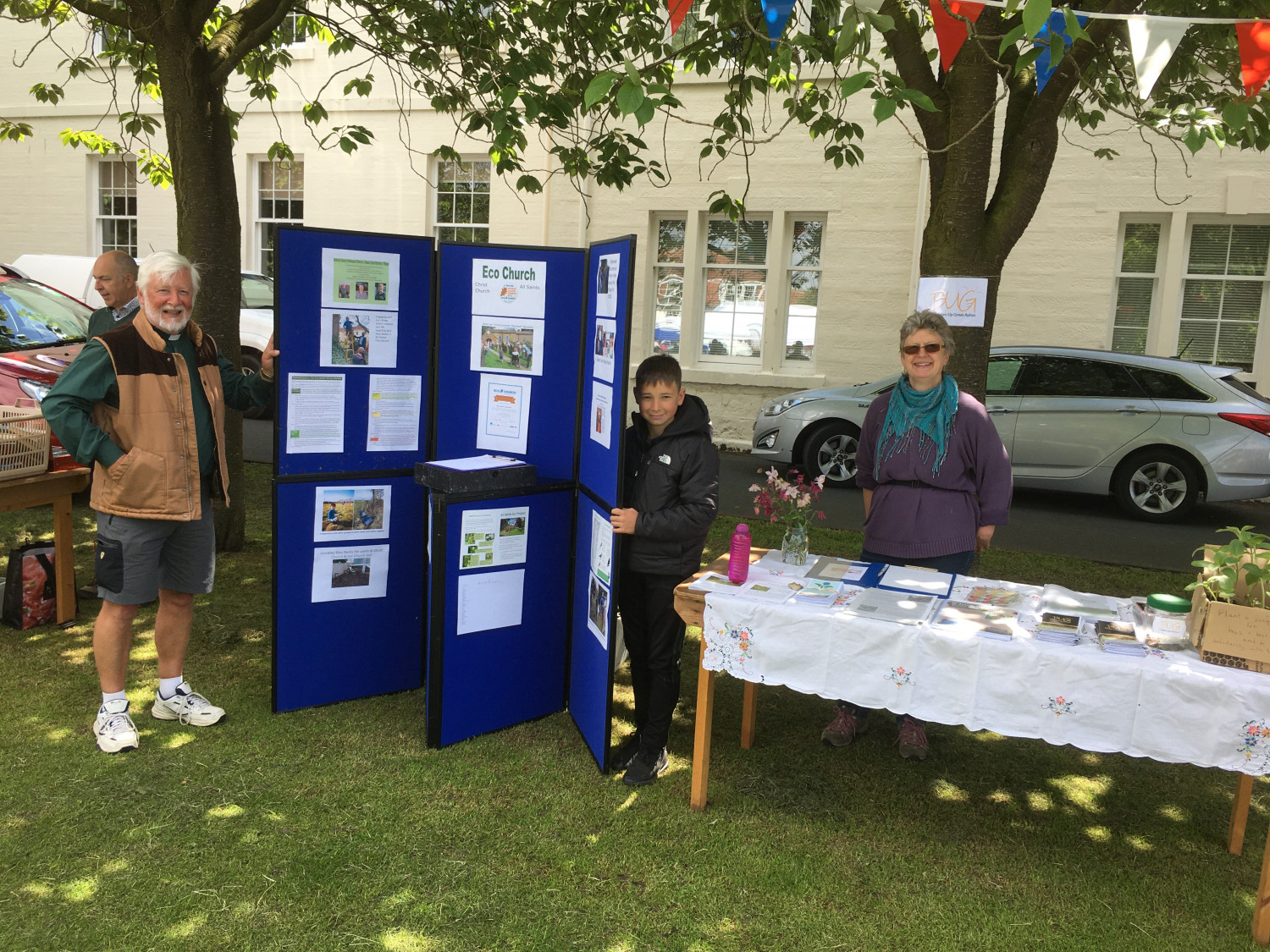 22: Jointly with Climate Action Stokesley & Villages we organised a stall at the village fete to promote 'Caring for Creation'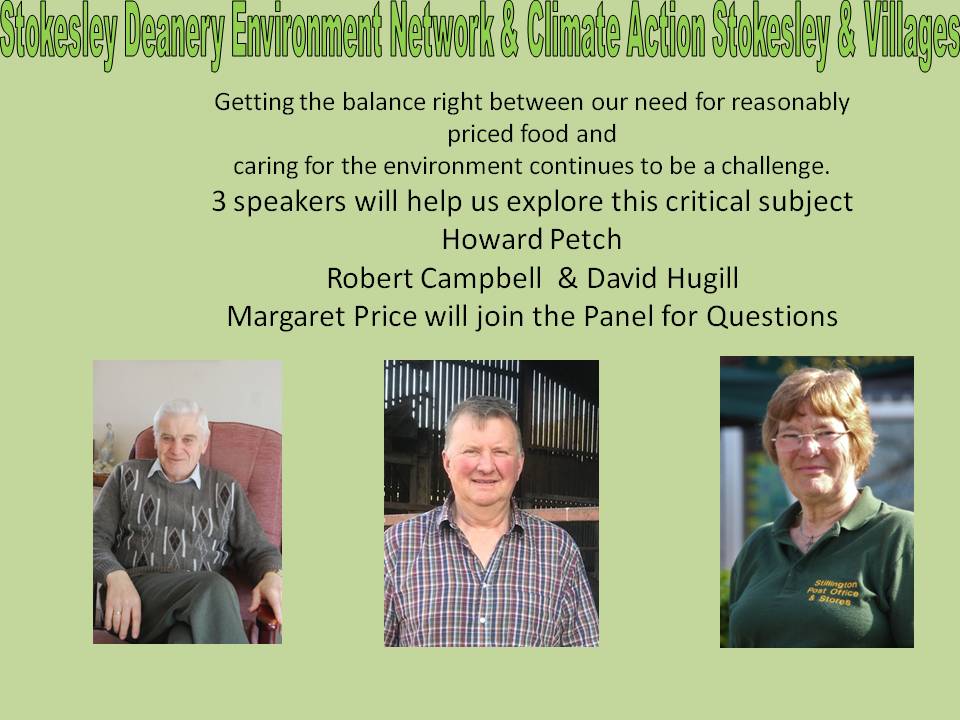 It was great to see over 60 people turn out for our April evening organised jointly by the Deanery Environment Network and Climate Action Stokesley and Villages in Stokesley Town Hall. We heard an excellent overview from our main speaker Howard Petch CBE, former Principal of Bishop Burton College. He was ably supported by local farmers Robert Campbell MBE former Chairman of the national organisation LEAF (Linking Environment and Farming) and David Hugill. They were joined on the Panel by Margaret Price who chairs the Diocese Rural Faith and Life group. It was encouraging to hear their answers to a wide range of questions and particularly encouraging that the different groups (consumers, farmers, churches and wildlifers) were all 'on the same page' seeking a balanced way forward.
March 2022 saw the completion of the installation of the new LED lighting in Christ Church. The lights are easily controlled and the options of Up, Down, Sides and Spots give ample variations for events and services. We decided against dimmers to keep things simple. Many thanks to Ian Robinson and team from Knaresborough who did a most efficient job at a very reasonable price. There are a few tweaks to angles now that we have had chance to get used to them, and an additional light for the main altar as the two spots originally for it had been trained on the cross and the effect was too good to lose. Thank you to all who supported the project - another important step in reducing our Carbon Footprint.
July 2021: Open Air Eco Service in All Saints Churchyard with over 70 people from the various churches in the village and community Wildlife & Climate Action groups celebrating the biodiversity of this living churchyard and recommitting ourselves to Care for God's Acr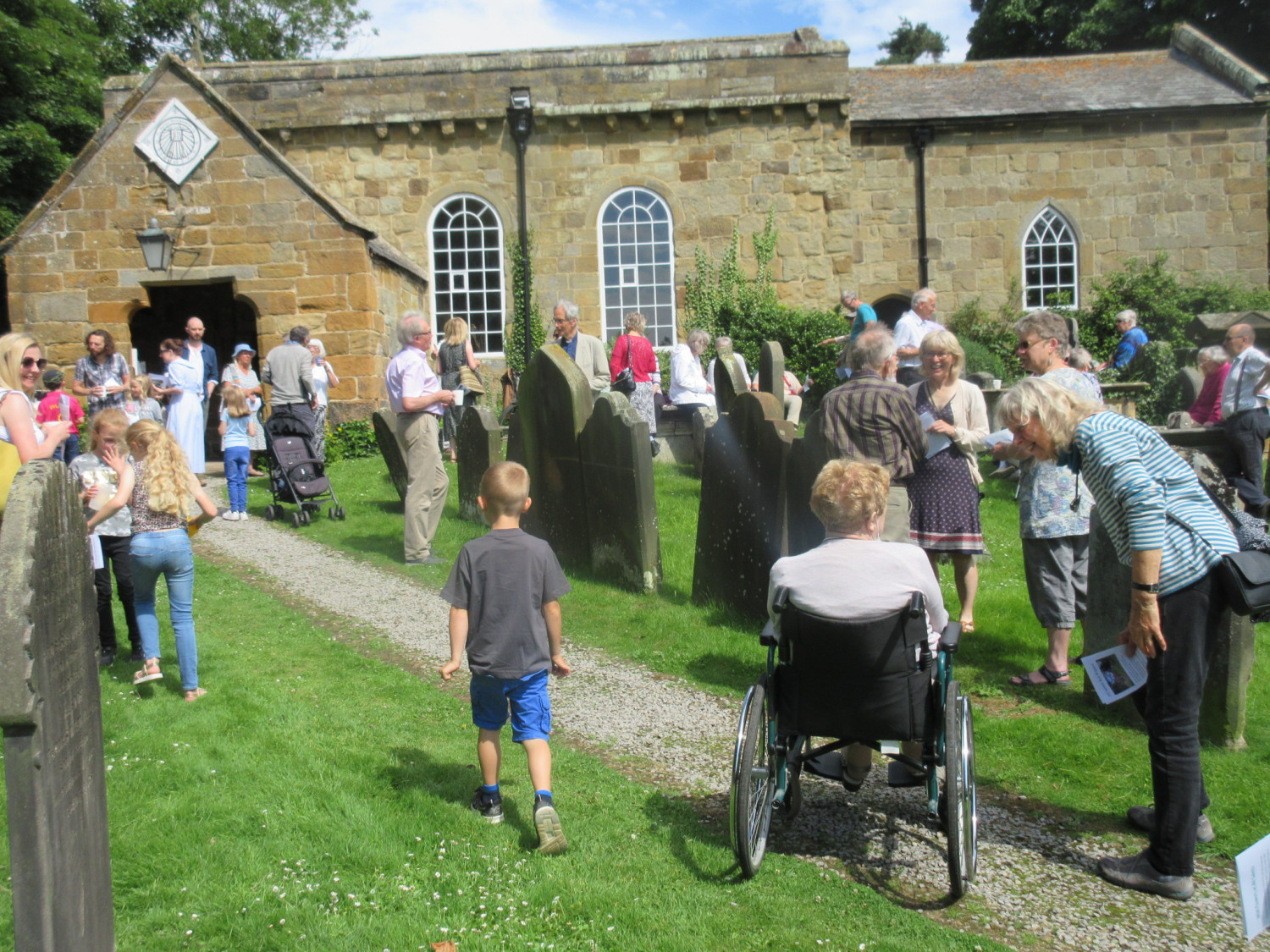 e.
May 2021: Bluebell Sunday Service where Diocesan Green Ambassador Rev Jan Nobel presented our Bronze Award Certificate and Certificates to several individual households and preached.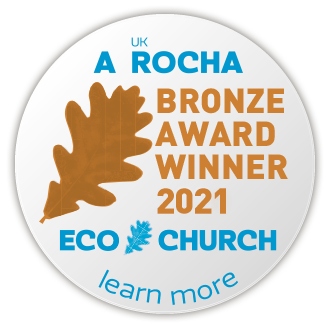 April 2021: Rishi Sunak MP assisted pupils & staff of Marwood School in the siting of 6 nesting boxes in our living churchyard surrounding All Saints Church. Earlier a group of volunteers had cleared a patch of nettles to enable a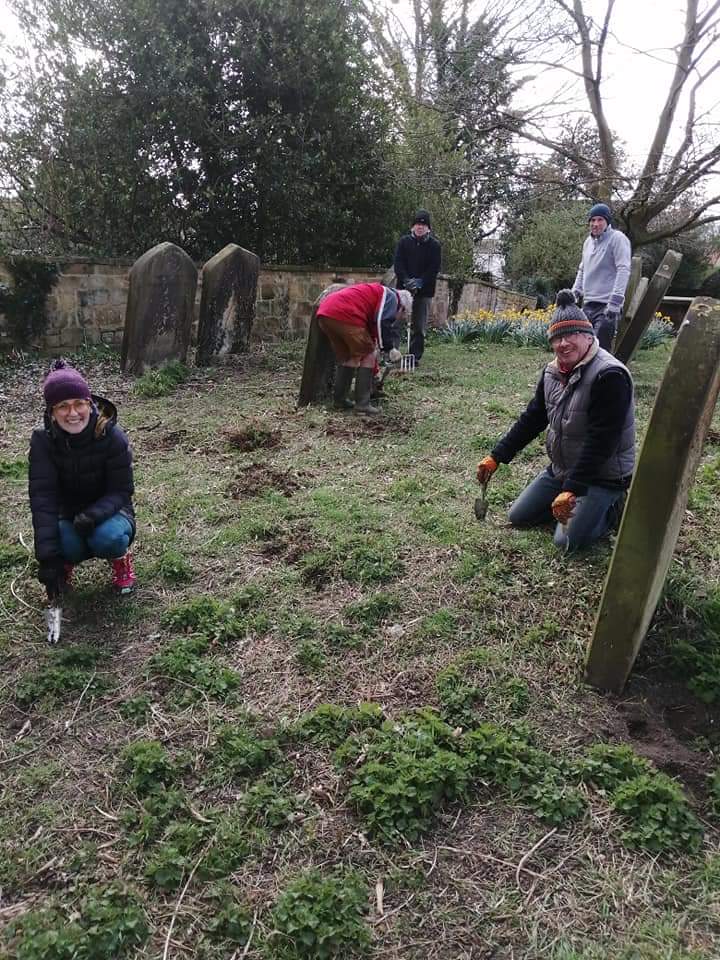 more diverse group of plants to grow there.
March 2021: Litter picking along A172

March 2021: 'Caring for Creation' Ecumenical Lent Course on Zoom
March 2021: York Diocese registered as an Eco Diocese
March 2020: Ivy clearing around graves in All Saints Churchyard
February 2021: Tree planting with Climate Action Stokesley & Villages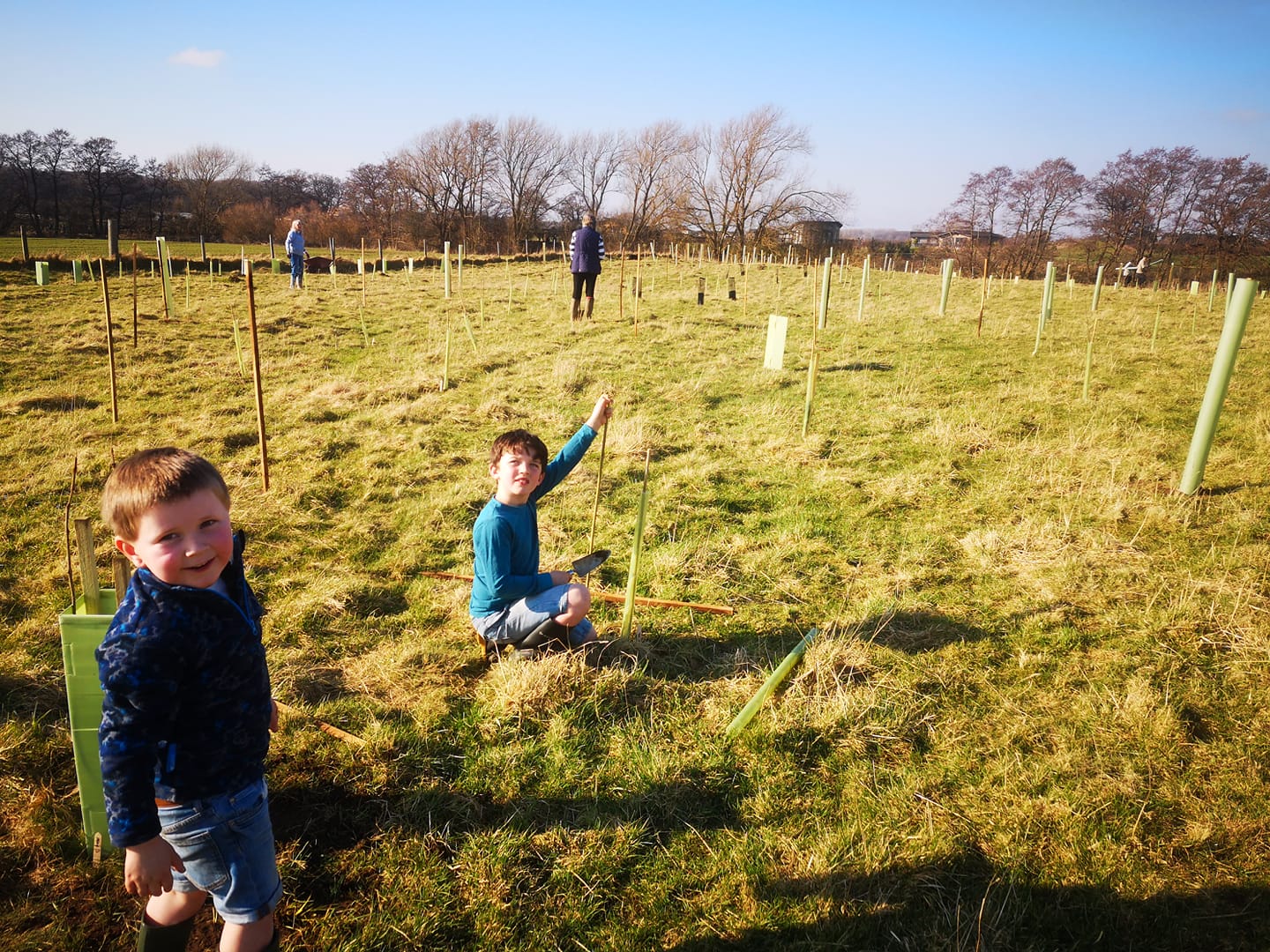 February 2021: Land Management Plan approved by the PCC
December 2020: Professional Biodiversity input from Kelly Harmar
November 2020: Contract for 100% Green electricity from Swalec was signed
October 2020: Christ Church registered as an Eco Church and initial survey completed by the Steering Group
September 2020: Eco Church Steering Group formed as a subgroup of the PCC
September 2020: "Earth, Water, Wind & Fire" themes for Prayer for the Day during the Season of Creation
February 2020: Bike Racks installed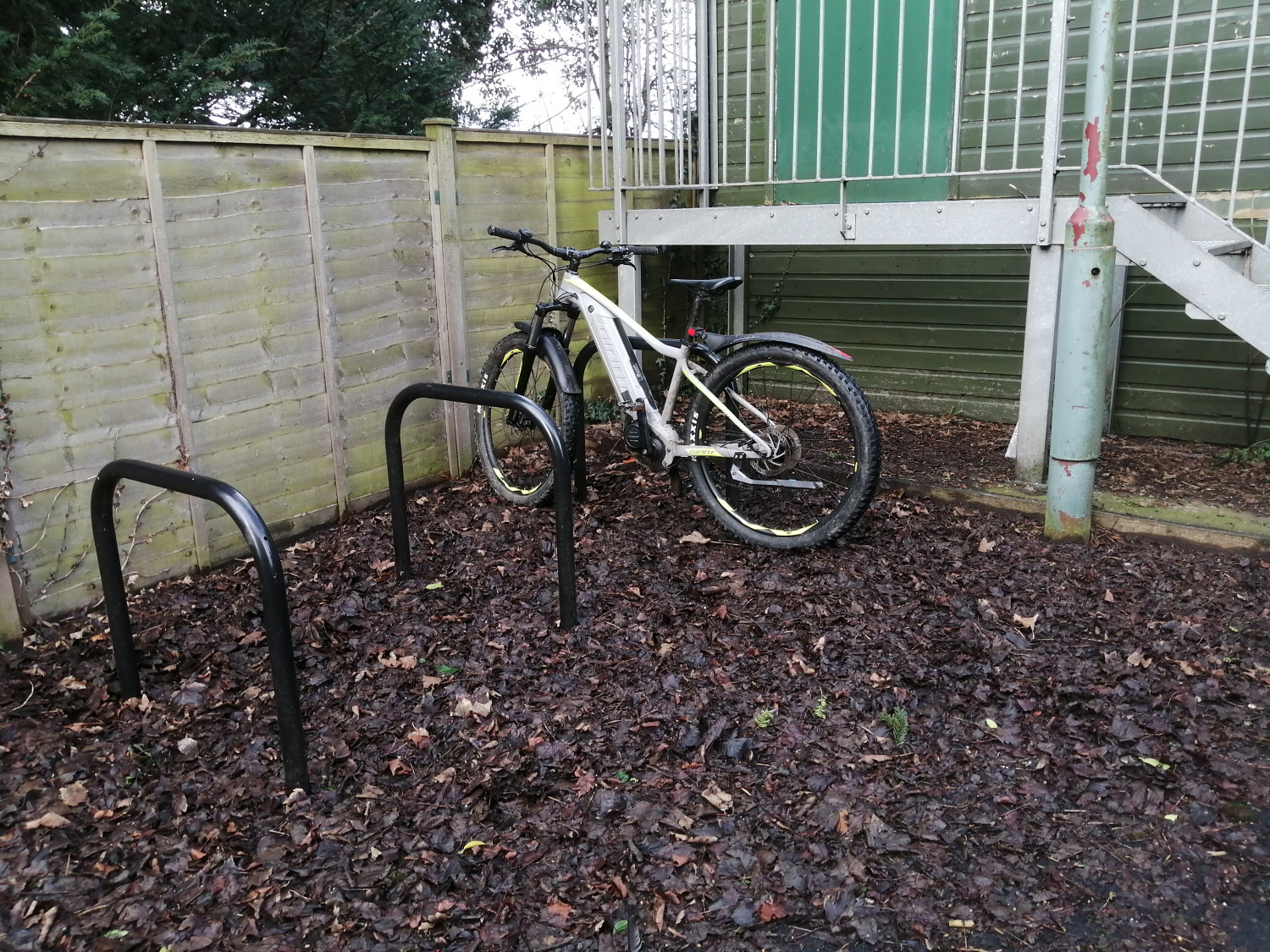 Eco Church: Everything You Need To Know
A Rocha UK shares the same five core values as all the other national A Rocha organisations around the world:
Christian
Underlying all we do is our biblical faith in the living God, who made the world, loves it and entrusts it to the care of human society.
Conservation
We carry out research for the conservation and restoration of the natural world and run environmental education programmes for people of all ages.
Community
Through our commitment to God, each other and the wider creation, we aim to develop good relationships both within the A Rocha family and in our local communities.
Cross-cultural
We draw on the insights and skills of people from diverse cultures, both locally and around the world.
Cooperation
We work in partnership with a wide variety of organisations and individuals who share our concerns for a sustainable world.
Since its beginnings in 2001, A Rocha UK has been practically involved in nature conservation. Our first major nature conservation initiative was the transformation of a derelict and degraded plot of land in the London Borough of Hillingdon into Minet Country Park. Following on from the success of Minet, A Rocha UK is now engaged in another urban conservation initiative at a small site in Norwood Green known as 'Wolf Fields'. Having long been abandoned to fly-tipping and anti-social behaviour, Wolf Fields is now being transformed by A Rocha UK, working in partnership with the local community, into a multi-purpose wildlife area including: a native fruit orchard, a sensory garden with local wild flowers, organic food growing allotments, bee hives, a small woodland for birds, and new paths to increase accessibility.

So, how does Eco Church work?
At the heart of Eco Church is a unique, online survey that enables churches to both record what they are already doing to care for God's earth, and to reflect on what further steps they can take to that end and then act accordingly.

The survey covers all areas of church life: Worship and Teaching; Management of Church Buildings and Land; Community and Global Engagement; and Lifestyle. As such, it challenges churches to act in respect of the songs they sing and of the food they serve; of the energy they use and of the ethics of their investments; of the wildlife that finds a home on their land and of the water that flushes their loos; and so on…
Accompanying the survey is a whole new suite of online resources to help churches undertake the actions recommended in each of the five areas covered by the survey. These include: sermon outlines; youth materials; guides on food co-operatives and looking after church land in wildlife-friendly ways; and a lifestyle audit, to name but a few.

The Eco Survey is freely available to all visitors to the Eco Church website; however, in order to save their responses, churches will need to register on the website. Having created an account, they can then login on subsequent occasions to update their survey responses as they undertake new actions and initiatives by way of caring for creation.

As a church completes the survey they collect points towards an Eco Church Award. There are three levels of Eco Church Award – Bronze, Silver and Gold. In order to qualify for an Award churches must attain the required standard in each of the areas covered by the Eco Survey that apply to them (we recognise that some churches do not have buildings or land). Churches can see when they have gained sufficient points in each Eco Survey category by looking at the points gauges that appear on screen with the Eco Survey questions. The gauges will change colour as their points accumulate to reflect the level of Award they have achieved.

If all the relevant gauges turn bronze, the church has achieved a Bronze Award; if they all turn silver they have achieved a Silver Award, and so on. However, if just some of the gauges turn silver while the others turn bronze, for example, the church would have achieved a Bronze Award (rather than a Silver Award) because that is the level they have achieved in all the relevant areas. In this way, the scheme encourages churches to take action to care for creation across every aspect of their life together rather than just focussing on one area at the expense of all others.
Churches apply for their Award by downloading and completing the Award Application Form from the Eco Church website. For Bronze and Silver Awards we will require confirmation from the church leader that they have seen and approved the Eco Survey responses provided on behalf of their church. Additionally, for Gold Awards we will arrange for an Eco Church Assessor to visit the church to see and hear for themselves of all that's been going on by way caring for God's earth across the areas covered by the Eco Survey.

Award-winning churches will receive a certificate to mark their achievement and will have the option of purchasing (at cost) an Award plaque to display on their premises fashioned, appropriately enough, from recycled church pews at an Edinburgh-based community project.
A Rocha UK is delighted to provide Eco Church completely free of charge to churches in England and Wales, but we will be very grateful for donations from participating churches to help us keep it that way!

The very first Eco Church Award – a Bronze – was presented to St Paul's Cathedral by Rowan Williams at the launch event. They were followed, very soon afterwards, by Lyme Regis Baptist Church and then by York Minster, and then by Collier Row Methodist Church in Romford, all of whom also gained Bronze Awards.